Online:Hedstild
The UESPWiki – Your source for The Elder Scrolls since 1995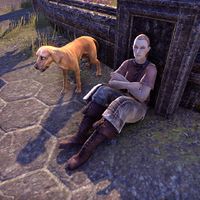 Hedstild is a Nord merchant who can be found in Davon's Watch Market District with her dog, Horker. She helps her father, Hrogar, sell the crops harvested at their farm in Hrogar's Hold. She's huddled up against a low wall next to her cart opposite War-Worthy Leathers and Swamp-Stitch Tailors.
Dialogue
[
edit
]
"See anything you'd like to buy?
I've got to get back home."
Your dog seems protective.
"That's why Father sent him with me.
Normally, Father brings the crops to town himself, but there's trouble at home. Father didn't want anyone to bother me."
Has anyone bothered you?
"There was one Dark Elf—a priest, I think. He stood too close. He looked up at me and started breathing funny.
I let Horker take a bite out of him and I haven't seen him since."
Is something wrong at your home?/What's wrong at your home?
"Goblins and spiders are everywhere. I'm worried.
My father's a strong man, but ... well, it's been a mammoth's age since his last raid on the Summerset Isles."
Where do you live?
"Hrogar's Hold. It's far to the west of here. Beyond Ebonheart, even. If you go, don't tell him I sent you. Just ... help him. He's a proud man."
She can occasionally be heard talking to her dog when he walks off:
Hedstild: "Horker! To me!"
Hedstild: "Heel, boy!"