Online:First Auridon Marine
The UESPWiki – Your source for The Elder Scrolls since 1995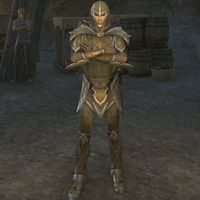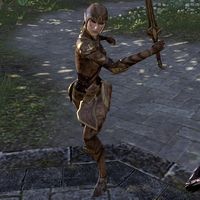 First Auridon Marines are Altmer soldiers and members of Queen Ayrenn's guard. They can be found in several locations, including Skywatch.
Related Quests
[
edit
]
Known Locations
[
edit
]
Dialogue
[
edit
]
A Hostile Situation
[
edit
]
During A Hostile Situation, marines guard the entrances to the manor area. If you are not wearing a disguise, they'll prevent you from entering with the following lines:
"No outsiders allowed!"
"Authorized only."
"You're not allowed."
"No entry."
Real Marines
[
edit
]
In Silsailen, you will discover that Captain Tendil's squad was captured by the Veiled Heritance. Once you have rescued and reequipped the squad, Tendil will lend you one of his marines to find the mastermind behind the attack on the town.
Through the Ashes
[
edit
]
During the quest Through the Ashes in Dawnbreak, some Marines can be heard discussing the events:
"I can't believe this mess."
"Daedra in Auridon? Never would have thought I'd see the day."
"I wonder if we'll get a pay raise for this."
"Pah. I'm more worried about getting out of here alive."
If you save some Marines in Dawnbreak, they will thank you with a generic line and might add:
First Auridon Marine: "See you back at the manor."
First Auridon Marine: "Perfect timing. Thank you."
Eye of the Ancients
[
edit
]
After defeating the Maormer captain at Greenwater Cove, you might overhear a marine giving orders:
First Auridon Marine: "Take the docks! Remember South Beacon!"