Online:Fez'skar
The UESPWiki – Your source for The Elder Scrolls since 1995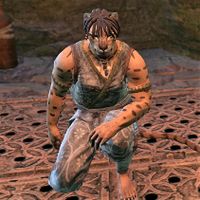 Fez'skar is a Khajiit initially found in The Tangle. He is a friend of Jakarn and fellow thief. He and Jakarn stole the infamous Jewel of Baan Dar for a crimelord, Tu'heiba, but double crossed her. He'll be caught in a trap when you first meet him.
Related Quests
[
edit
]
Dialogue
[
edit
]
The Tangle
[
edit
]
Approach him in his alcove and he'll warn:
"No! Stay back! Don't touch me!"
Easy does it. What's the matter?
"What's the matter? The giant spike trap under Fez'skar's feet! It could impale Fez at any moment!"
Why did you step on a spike trap?
"Not by choice! The Ruddy Fang trappers forced Fez onto this plate. They play this game with new slaves, to break their spirits and teach them to listen.
If Fez'skar steps off this plate, he becomes a Fezkabob. Fez does not want to be a Fezkabob!"
Calm down. Is there any way to disarm the spike plate?
"You and Jakarn come to free Fez'skar? Bright moons! Yes! Free me!
To disarm the plate, you pull the chain over there, but you need a key to unlock it. Look for a chest deeper in the Tangle. I know they keep the key inside it. Please, hurry!"
All right, sit tight. I'll go find this key.
"Find the key to free the chain. Pull the chain to free Fez'skar. This is simple, yes?
Please hurry. Fez wants to live! Or at least use a decent privvy before he dies. The Ruddy Fangs didn't even give me a bucket!"
Find the key and return to Fez:
"There you are! Did you find the key? Fez'skar's fur falls out from all this stress!"
Yes, I've got the key.
"Baan Dar be praised!
Slide the key into the lock beneath the chain. Turn it to the right until you hear a click. Slowly! And do not take the key out before you pull the chain. Otherwise, Fez'skar is skewered like a tasty pig!"
Not yet. Tell us where you hid the Jewel of Baan Dar, first.
"Tell you, so you can leave me here to die? Your new friend Fez'skar was not born yesterday, walker.
I will tell you only that the jewel is hidden, safe, in a lockbox on a high cliff. You will not find it without my help! Now, free Fez'skar! Please!"
Fine. I'll get you out of there.
All right, don't move. I'll get you out of there.
-unchecked-
"Fez does not move. Fez does not even breathe! Fez just stays very, very still, yes?"
Release Fez and... he'll put you to sleep.
Fez'skar : "Free at last! Thank you, both! Now, all this key-finding and trap-disarming is hard work, yes?"
Fez'skar : "You've earned a rest, I think."
Jakarn : "Oh, you two-faced little—"
The Stitches
[
edit
]
Look for Fez and you'll find him and Jakarn on the landing below the tavern. They'll be in mid argument:
Fez'skar : "Get back! You will not take the jewel from Fez'skar! It's mine!"
Jakarn : "Listen to me, Fez. That jewel's made you crazy! No one can make that jump!"
Fez'skar : "You lie! Baan Dar smiles on me, Jakarn! Riches! Glory! All will belong to Fez'skar!"
Jakarn : "Fez, damn it, don't do this! Stop!"
Jakarn : "Fez!"
Fez jumps for the jewel, but plummets to the desert floor.