Online:Earrona Kneecapper
The UESPWiki – Your source for The Elder Scrolls since 1995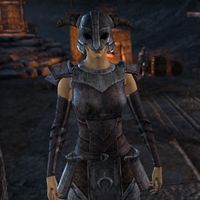 Earrona Kneecapper is an Altmer member of the Undaunted found outside the town of Velyn Harbor. She will tell you about Volenfell, marking its location on you map if you have not discovered it yet. She can also be found at the Hel Ra Citadel, offering mystic services.
Dialogue
[
edit
]
Velyn Harbor
[
edit
]
She can be found south of the port town, drinking with Turuk Redclaws and Untouchable Naim. If you're not part of the Undaunted:
"I'm Earrona Kneecapper. If you want to know why they call me that, keep talking."
If you are part of the Undaunted:
"Ah, a fellow Undaunted! My name is Earrona Kneecapper.
It's a pleasure to meet you. I hope you find the adventure well in these parts."

How did you get your name?
"By shattering knees. Not as many as people say—about a dozen of them. A dozen pairs."

That's a lot of knee caps.
"I'm forgetting about that brawl in Shadowfen. Maybe twenty pairs.
I don't set out to do it. It's just … when a battle begins, I naturally gravitate towards the knees. The unwitting present them as easy targets—a wonderful gift in a fight."

Tell me of a challenge worthy of an Undaunted. / I see. Have you seen or heard of anything an Undaunted should be aware of?
"Alik'r."

What about it?
"What?"

You were saying something about Alik'r.
"Ah, yes. Sorry. Must be the drink.
Lots of creatures to fight in Alik'r. As well as the ancient Dwemer city of Volenfell. Was buried in sand, recently discovered."

What'll I find there?
"Knowing the Dwemer? Probably demented, metal traps.
And lethal constructs with purpose only to protect Dwemer treasures. A good time for an Undaunted."
Hel Ra Citadel
[
edit
]
"You looking for something to buy? Undaunted should be leaping into ancient tombs. Not lugging this stuff around."
"Come on. Buy something.
I'd rather be stabbing beasts, and the sooner I unload these wares, the sooner that can happen."
"I'm stuck here until I'm sold out. So buy something, already.
Please."