Oblivion:Morahame
The UESPWiki – Your source for The Elder Scrolls since 1995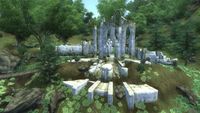 Morahame is a small Ayleid ruin east of Bravil containing monsters. It contains only one zone, Morahame.
Exterior
[
edit
]
The exterior is located at coordinates: Tamriel 30, -11
This location's map marker (M on map) is named Morahame (editor name MorahameMapMarker). The entrance door is E of the marker, 60 feet away.
0-2 Monsters are near the entrance
1-2 Mud Crabs are near the entrance
1 Wilderness Creature (Valley variety) is near the entrance
2 Nirnroots are at locations N on map
The following plants can be found near the entrance: 1 Fennel plant, 4 Fly Amanita plants, 25 Foxglove plants, 2 Ginseng plants, 1 Green Stain Shelf plant, 4 Monkshood plants, 1 Primrose plant, 11 Domica Redwort plants, and 5 Summer Bolete plants
Zone 1: Morahame

[

edit

]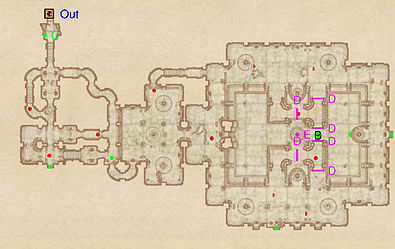 This zone has sections that are underwater.
Immediately to your right once you enter, there is a cluster of weapons in the right corner of the room (marked as C on map), all of which are low-level equipment. Continuing down the stairs, you will be staring down a hallway connected to a nearby staircase. From here, you can either descend the staircase or drop off the platform. Either way, you'll pass through a couple of corridors and go down another set of stairs until you reach a small chamber lit up by a bonfire in its center.
The next area is a large chamber, making up a good percentage of the dungeon; however, the enemies tend to spawn scattered from each other, making it easy to pick on one enemy at a time.
The boss chest (B) is located on a small platform surrounded by falling blades (all marked as D). A Dark Welkynd Stone (E) is positioned nearby below the platform, as well as one enemy. Below the main level in the chamber is a shallow pool of water, which holds the Dark Welkynd Stone and a single cask.
Occupants:
Treasure:
1 boss-level Ayleid Reliquary (Monster variety) at location B on map
2 Ayleid Casks 01 (1 locked)
3 Ayleid Casks 02 (2 locked)
The following weapons will always be found: 2 Iron Bows, 2 Iron Daggers, 1 Iron War Axe, and 1 Steel Mace
Some of the above items are clustered at location C: 2 Iron Bows, 1 Iron Dagger, 1 Iron War Axe, and 1 Steel Mace
Traps:
Doors and Gates:
There is one door (at Out) in/out of this zone, leading outside