Oblivion:Fort Vlastarus
The UESPWiki – Your source for The Elder Scrolls since 1995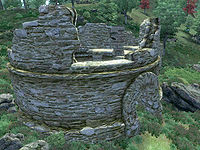 Fort Vlastarus is a small fort east of Skingrad containing vampires (quest-related). It contains only one zone, Fort Vlastarus.
Related Quests
[
edit
]
Exterior
[
edit
]
The exterior is located at coordinates: Tamriel -9, 1
This location's map marker (M on map) is named Fort Vlastarus (editor name FortVlastarusMapMarker). The entrance door is W of the marker, 70 feet away.
1 Chest (contains 1 Potion of the Sea; non-respawning) is near the entrance
The following potions can be found near the entrance: 2 Potions of Detect Life
The following plants can be found near the entrance: 28 Alkanet plants, 1 Blackberry bush, 6 Columbine plants, 33 Flax plants, 1 Fly Amanita plant, 9 Motherwort plants, 4 Peony plants, 1 Strawberry bush, and 14 Viper's Bugloss plants
Zone 1: Fort Vlastarus

[

edit

]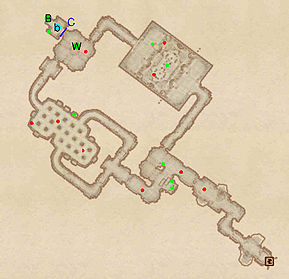 Due to its many Vampire inhabitants, Fort Vlastarus might cause you to contract Porphyric Hemophilia but the huge amount of valuables makes it worth exploring. Not too far into the fort you will come across a couple of vampire beasts. It is advisable to dispose of them before being noticed by the Vampire lurking around the corner. Loot the two chests and the coffin in this area. You will now face a choice: You can either go left or right; the most effective and profitable path is heading through the gate to the right.
You will end up in a room with an altar in the middle and bodies dangling from the ceiling, two of them set on fire. Dispose of the patrolling Vampire, loot the coffin and, if you have high enough Acrobatics, jump onto the ledge above the tunnel for a bit of extra loot. Take the tunnel leading northwest and you will find the Wooden Chest containing Shadowbanish Wine (W) and an occupant guarding it. Past the locked gate is the boss-level chest (B), and a sleeping slab (b). Head through the gate and you will end up in a tomb-like structure with several coffins; only one of them (the first one on the left) contains minor loot. Proceed forward. Take one of the two tunnels leading back to the first intersection and exit the fort through door Out.
Occupants:
Treasure:
Doors and Gates:
There is one door (at Out) in/out of this zone, leading outside
1 Gate at C (locked)
Other:
1 sleeping slab at location b on map