Oblivion:Fort Black Boot
The UESPWiki – Your source for The Elder Scrolls since 1995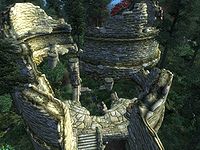 Fort Black Boot is a small fort between Bravil and Skingrad containing conjurers. It contains only one zone, Fort Black Boot.
You have a 10% chance of meeting an Orc Adventurer here.
Exterior
[
edit
]
The exterior is located at coordinates: Tamriel 2, -6
This location's map marker (M on map) is named Fort Black Boot (editor name FortBlackBootMapMarker). The entrance door is S of the marker, 110 feet away.
1 Wilderness Creature (Forest variety) is near the entrance
The following plants can be found near the entrance: 25 Columbine plants, 3 Emetic Russula plants, 23 Flax plants, 23 Lady's Smock plants, 3 Morning Glory plants, 20 Motherwort plants, 32 Nightshade plants, 3 Domica Redwort plants, 4 Somnalius plants, 2 Strawberry bushes, and 15 Viper's Bugloss plants
1 Wilderness Chest 02 (non-respawning) is found atop a support beam on the second story, just on top of the entrance.
Zone 1: Fort Black Boot

[

edit

]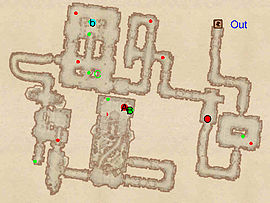 The only zone of Fort Black Boot is large, but incredibly linear. Upon arriving from door Out, follow the tunnel to the iron gate and watch out for the patrolling Daedra in the next room. Unlock the chest on the other side of the pillar and follow the southern path as it twists and turns, greet the Orc Adventurer if he appears at O, and dispose of the two leveled daedra enemies. Behind the wooden door is the first large room, which contains another enemy and a variety of alchemic equipment at C. A locked chest can be found just north of C. A restoration chest can be found right next to the bedroll at b in the northern part of the room. Take the western tunnel and follow it to the next room. Ignore the stairs for now and head straight to loot the chest in the dead-end path to the south. Head up the stairs and cross the bridge, and prepare for the boss in the final room. This room is divided into two levels, but there is no reason to jump down; just make you way to the boss-leveled conjurer at A, guarding his chest at B and loot the nearby restoration chest. Once you are finished, you have no choice but to backtrack all the way to the entrance and leave through the door Out.
Occupants:
1 boss-level Conjurer at location A on map
1 Orc Adventurer (10% chance of appearing) at O
1-2 Conjurers
3 Conjurer Enemies (each 50% probability Conjurer, 50% Daedra)
2 Daedra
Treasure:
1 boss-level Chest (Conjurer variety) at location B on map
2 Chests 01 (1 locked)
1 Chest 02 (locked)
The following alchemy equipment will always be found: 1 Novice Alembic, 1 Novice Calcinator, and 2 Novice Mortar & Pestles
The other following items will always be found: 1 Bread Loaf, 1 Cheese Wedge, and 1 Iron Dagger
Some of the above items are clustered at location C: 1 Novice Alembic, 1 Novice Calcinator, and 2 Novice Mortar & Pestles
Doors and Gates:
There is one door (at Out) in/out of this zone, leading outside
Other:
1 bedroll at location b on map