Morrowind:Maurrie Aurmine
The UESPWiki – Your source for The Elder Scrolls since 1995
This page is currently being rewritten as part of the Morrowind Overhaul Project.
The page is being rewritten and checked in several stages. If you make an addition to this page, please update this template accordingly, but make sure you have observed the project guidelines.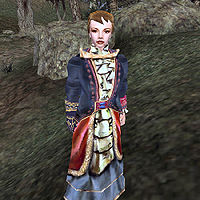 Maurrie Aurmine is a Breton noble who was robbed of her jewels by a handsome bandit while traveling in the Ascadian Isles. She is more interested in the bandit than her jewels, and will ask you to locate him so she can start a relationship.
Maurrie wears an extravagant shirt with matching skirt, shoes, and ring and her unique gloves. She carries up to 50 gold. Aside from her natural bonus and resistance to magicka, and her ability to shield herself for short periods, she knows the following spells: Deadly Poison [Ranged], Weakness to Blight Disease, Weakness to Corprus Disease, Dire Weakness to Fire, Dire Weakness to Frost, Dire Weakness to Magicka, Dire Weakness to Poison, Dire Weakness to Shock, Mark, Recall, Absorb Spell Points [Ranged], and God's Spark.
Dialogue
[
edit
]
Greetings:

"Begging your pardon. Have you seen a bandit nearby? I must find him!"
"I must find that bandit! I believe he's in Pelagiad. Perhaps he'll come back to find me, though...."
"If there's anything I can ever do for you, I would be happy to. Soon, I will be with Nelos, and all will be well."
---
bandit nearby:
jewels: "What's that? Oh, never mind the jewels! I just want to find the bandit again. He was charming, and funny, and I simply must see him again. His name? Nelos...Nelos Onmar...a name that will stay on my lips for eternity. Perhaps you can find him for me? Please, I cannot live without knowing if he could ever love me. I have nothing to offer you in return, but could you not help me for the sake of love?"

I will try and find this man, if only for love's sake.

"You'll try? Thank you so! I'm sure you'll be able to find him. He mentioned something about having to head north, so I imagine he might be found in Pelagiad. Please, if you find him, give him this glove for me, as a token of my love. I'm certain he will want to find me again." (Maurrie's Left Glove added)

I have no times [sic] for your foolish games, girl.

"Have you no heart? No soul? Can you not see that this must be true love? No matter. Though it may take years, I'm certain we will be reunited one day."

"Yes, they were taken, but that's of little importance. It's the man who took them I must find."
"I don't care about them at all anymore."

note from Nelos:

"He gave you a letter to give to me? Wonderful! Thank you so! I knew that he cared. You know, you didn't have to do all of this for me, and I really appreciate it. You're clearly a wonderful person. You should visit my friend Emusette Bracques in Tel Aruhn. She's a wonderful person, and I think the two of you would get along famously." (if player is male)
"He gave you a letter to give to me? Wonderful! Thank you so! I knew that he cared. You know, you didn't have to do all of this for me, and I really appreciate it. You're clearly a wonderful person. You should visit my friend Barnand Erelie in Tel Branora. He's a wonderful person, and I think the two of you would get along famously." (if player is female)
Related Quests
[
edit
]