Daggerfall:Direnni Tower
The UESPWiki – Your source for The Elder Scrolls since 1995
This page or parts of this page were previously transcluded from lore pages per this discussion.
This page should be checked for potential unrelated lore and other information. Please remove this banner when the page has been cleaned up.
To meet our site's higher standard of quality, this article or section may require cleanup. It currently falls under the jurisdiction of the Daggerfall Redesign Project, but anyone is welcome to improve upon the quality of this page.
The user who placed this here had the following concern:
Remove non-game specific info
To leave a message about the cleanup for this article, please add it to this article's talk page.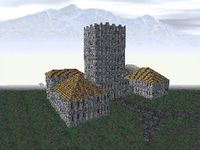 The Direnni Tower, also known as the Adamantine Tower, Ada-mantia, Ur-Tower, and Tower Zero, is a tall, circular, and ancient tower at the highest point of the Isle of Balfiera in the Iliac Bay. The Tower was used as a fortress, prison, and palace by the Direnni Hegemony, but its true purpose has remained a mystery. The latest magical divination of its age places its construction around ME 2500, making it the oldest known structure in Tamriel. The tower has been modified several times over the years, but the cylindrical core of metal has not been touched and is rumored to extend as far into the ground as it does protrude above it, but its depths have never been thoroughly explored. The current mistress of the tower is Medora Direnni, the former court sorceress of Daggerfall. It is rumored that some kind of curse was placed on the tower which prevents her from leaving.
Dungeon Layout
[
edit
]

Using in-game denotation for dungeon-modules:

                              B0000007          
                    B0000006  N0000020  B0000008
          B0000005  W0000004 @S0000181  B0000009
B0000004  S0000180  W0000003  N0000012  B0000010
          B0000013  B0000012  B0000011          

Dungeon-Modules: 16
Quest Locations: 12

Related Quests
[
edit
]